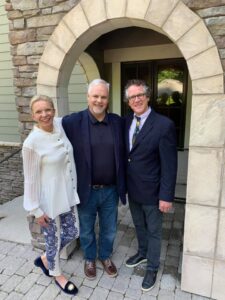 LAKE ORION, Michigan – Deacon Chris Stark, Guest House outreach director, has completed clinical interventionist training to better consult and serve Catholic Bishops and leadership on matters related to addictions and recovery.
Guest House, the world's first and most successful residential treatment and recovery provider for Catholic clergy and religious, regularly sends Deacon Stark to meet with and help bishops, religious and diocesan leaders to recognize the signs of alcoholism, alcohol use disorders and other addictions that can impair clergy, religious and seminarians. He recently completed the Love First Clinical Interventionist Training with Jeff and Debra Jay, both acclaimed clinical interventionists, authors and addiction specialists whose programs are considered the industry standard.
"Having Deacon Chris complete the Clinical Interventionist Training takes us to an even higher level," said Guest House President and CEO Jeff Henrich, himself a licensed alcohol and drug counselor with extensive experience in clinical practice, chemical dependency, recovery and Guest House's unique ministry.
Jeff Jay, CIP, CAP, is a nationally recognized clinical interventionist and addiction specialist who has been guiding families into recovery for more than 30 years. His wife, Debra, is also a noted author, lecturer and interventionist. Their latest book is Love First: A Family's Guide to Intervention.
"When lay people are suffering from an addiction to alcohol, it can take up to seven years of substance abuse before the family, employer, or friends will confront the issue'' Stark said. "Clergy and religious are far more isolated: Most live alone, so on average, it can take up to 15 to 20 years before the matter is properly addressed and treatment is received.
Contrary to popular misconception, addiction is not a moral failing. It is a disease. Clients suffering from addiction will often arrive feeling angry and betrayed so it's important to focus on "love first,'' to stress that they are loved and that we are here to help them to recover, Stark said, adding, "It's not your fault if you're an alcoholic, but it is your responsibility to address the matter."
Guest House saves lives and vocations, specializing in comprehensive addiction services for Catholic clergy and religious including priests, deacons, brothers, sisters and seminarians. Based at the beautiful and historic William E. Scripps Estate in Lake Orion, Michigan since Pentecost 1956, the Catholic nonprofit offers care, education and research to Catholic clergy and religious throughout the world without regard to ability to pay.